JESSIE'S HEALING WATERS POOL THERAPY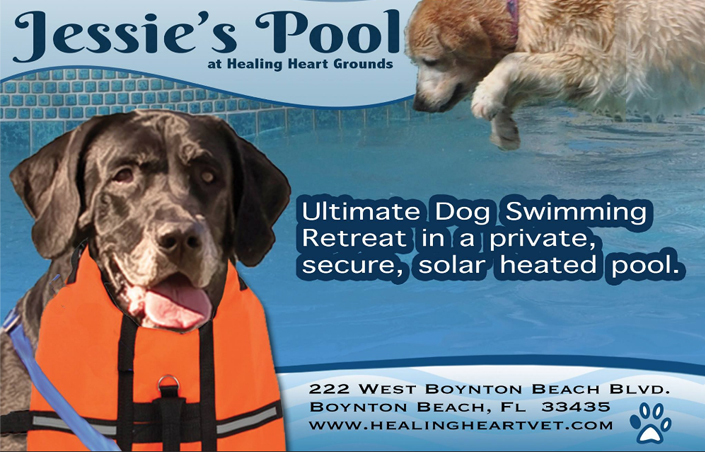 WELCOME TO JESSIE'S POOL
Designed with the hearts of Dr. Keller's beloved Labrador (Jessie) and German Shepard (Matthew) in mind, this pool offers the ultimate dog swimming retreat in a beautiful, holistic spa setting. Whether they are retrieving a ball or splashing around with the owner, dogs greatly benefit from the exercise, stimulation and exhilaration of swimming play. The healing waters at Jessie's pool provide a sacred place of fun, sun, exercise and balance for our dog angels - a virtual fountain of youth! Come experience all the positive energy of this paradise and let your dog's journey toward increased vitality and joy begin here!
WHAT WE OFFER / POOL FEATURES
-- Private, reserved 30 minute swim sessions for your dog in a truly unique setting.
-- Exceptionally caring and gentle attendants to assist your dog in and out of the water or help shy dogs get comfortable being in the pool.
-- Many people use the supportive environment at Jessie's pool as a training ground to help transition their dog to using their own pool at home.
-- Healing waters that are salt-based and solar heated during winter months.
-- An impressive 40' lap lane that is 10' wide and 4' deep, with plenty of room to swim, splash, fetch and chase!
-- Shallow ledge runs along the entire length of pool for resting periods, slow walking and/or easing shy dogs into the water.
-- Doggy floatation vests in a variety of sizes for dogs just learning to swim or those needing a little extra support.
-- Water toys are available and doggy treats are on us, but feel free to bring your dog's favorites!
-- Pool bath cabana, lockers and outside shower available.
-- Pool grounds are home to many magnificent trees, native plants, butterflies, birds and breezes which seem to weave their peaceful magic into the hearts of human and canine visitors alike.
BENEFITS OF WATER PLAY & EXERCISE
-- Allows for exercise with minimal discomfort. Buoyancy of the water supports 90% of a dog's weight, lessens stress on joints, encourages freer movement and provides a safe environment for exercise. Perfect for dogs with arthritis and joint issues.
-- Accelerates the natural healing process. Water exercise may slow the progression of certain degenerative conditions or speed recovery after an operation.
-- The added resistant the water provides actually makes swimming much more of an intense workout than just walking and running provides.
-- Loosens tight muscles and increases circulation. Promotes endurance, flexibility, range of motion, balance, coordination and muscle strength.
-- Relaxation, confidence building, increased vitality and joy.
-- One of the biggest benefits is fun. Most dogs that willingly swim love it and they reap all the benefits.
POOL HOURS, RESERVATIONS & PRICING
We are open Monday - Saturday by appointment only. Call us at the pool office 561.509.6319 to reserve your private swim time. Jessie's Pool at Healing Heart Grounds offers monthly specials. The ultimate dog swimming retreat starts at just $28 for a 30 minute swim session.
For the safety of all who visit Jessie's Pool, dog swimmers must have proof of yearly vaccinations or titers. Exceptions and exemptions will be honored. If your dog is already a client at Healing Heart, s/he is ready to swim here, health and wholeness permitting. If your dog receives veterinary care elsewhere, please have a discussion with the vet prior to starting swimming exercise. We ask for written approval from your vet that your dog is healthy enough to swim.
You can either download a form (titled Health Form under the Client Forms section of this website) or obtain a letter of medical clearance directly from your vet's office. Fax the form or letter to us at 561.740.0819 or bring it with you on your first visit to the pool.
THE STORY OF JESSIE'S POOL
Dr. Keller reflects on her inspiration for creating this pool:
"In knowing of their tremendous, infinite desire to play, rascal and run, anticipating the ageing wear and tear on their majestic joints and bone structures, I discovered SWIMMING!!! With persistence and determination, both my boys, my 120 pound manatee-sized boys, were taught not only to swim but to LOVE the water!!! Jessie and Matt always knew when it was our time to go swimming! With one great leap they sailed into the beautiful abyss of the pool! Laughter and joy filled my heart as I got to experience this utter joy with them. I hope your heart will leap into Jessie's pool knowing it was created out of unconditional love I received from watching Jessie and Matthew in their ultimate joy of swimming and playing."
You and your dog angels will be refreshed here - mind, body and spirit. Call us at 561.509.6319 to reserve your ultimate dog swimming retreat!