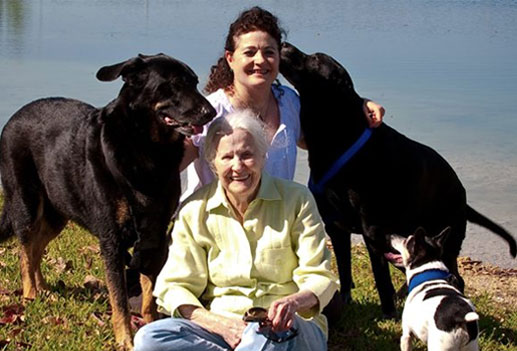 WELCOME TO
HEALING HEART GROUNDS
Dr. Keller's vision of Healing Heart Grounds started as a young girl. Inspired by her mother, Margaret, who she lovingly calls Bags. 
"Bags was constantly seeking holistic care for us all, our animals and herself. This search included mind, body and spirit. Bags was driven to live a pure and joyous life. She believed in taking care of family, friends, the community and even the world. She encouraged each of us, her five children, to see the world, enjoy its beauty and care for each other. This has inspired me, all through my life and with each new day, I hope to honor mom's founding principles. "
The vision of Healing Heart Grounds continues to grow and flourish. In 2015, Healing Heart's expansion was completed. The creation of Healing Heart Grounds was truly lead and developed by Earth angels.
This journey began with the help of Bruce Keller, Nancy's beloved brother. Together, they secured the future home of Healing Heart. This was a mission of love and trust as they worked with the previous owner to slowly but surely purchase this sacred sight. Dr. Keller sought support from her mother, sisters, Becky and Colleen, and brothers, Bruce and Henry, as she embarked on this journey.
Their support, provided her the courage and vision to move forward. The foundation of Healing Heart Grounds was really deeply rooted in family love and support.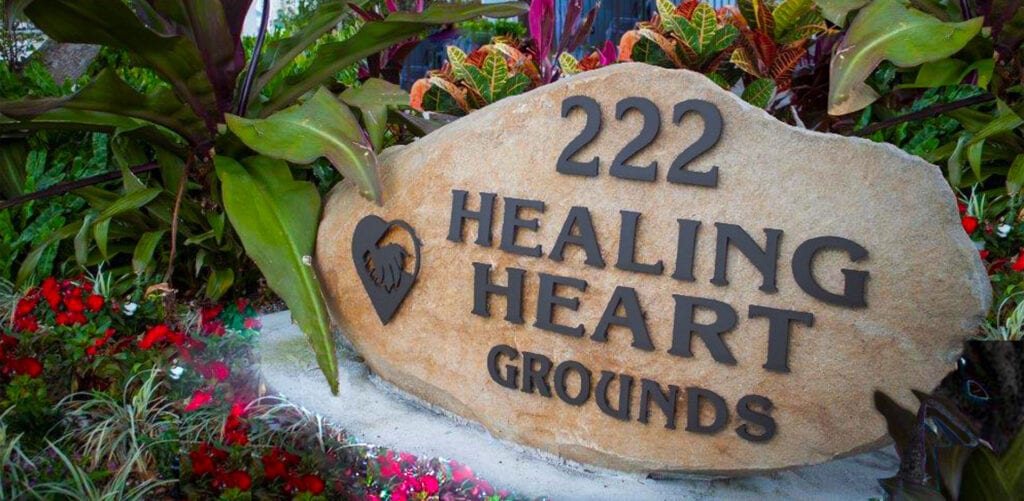 WELCOME TO HEALING HEART GROUNDS
Dr. Keller's dream team the "Three Musketeers", Jeff Hendricks, and her niece, Bridget Keller, and herself, worked with continuous focus on the goal and mission, Healing Heart Grounds was built with joy, love and perseverance. Keller stated, "As we visualized and verbalized our dreams, Jeff listened and with his bright, loving smile and laughter, he got it, then built it!"
We give thanks to following Earth Angels who provided ongoing support and guidance to Healing Heart Grounds:
The City of Boynton Beach, our never ending champion of Healing Heart's vision; Our architect, Annie Carruthers, who sought to listen to us with understanding and create our vision, and the brilliance of the home of Healing Heart;
Green Architect Consultant, Joe Snider provided key insights to creating a natural environment;
Community Redevelopment Agency of Boynton Beach, who supported and encouraged our vision and redevelopment of Boynton Beach Blvd.;
Friend, Personal Private Inspector, Wallace Therien, who's magnificent eye, and attention to detail provide constant comfort and security;
Best friend, Veterinary Colleague, Dr. Robert Marrazzo, who's endless friendship, insights and enthusiasm for Dr. Keller, Healing Heart and the practice of veterinary medicine are truly lived, expressed, and incorporated every day.
The blessings and support continue to flourish at Healing Heart Grounds. As divine timing would have it. Dr. Keller was on a mission to secure the perfect rock for signage at Healing Heart Grounds. She never envisioned the rock that was to come. Or, as it has come to be known, our blessed boulder.
"Look no further!" exclaimed Stan Morrow, Keller's friend and famous Mountain Man. He insisted on providing and laying this 'Rock' for us. Morrow lives in the mountains of North Carolina, a scientist (CTO of Hadron Technology, awarded the R&D 100 award (award for best invention and technology in 2015, owns 15 patents), farmer and brilliant earth angel that believes in the value of living life with pure heart and peace. An inventor, he and his team of scientists and engineers have created ways to reduce hazardous waste, determined to make our world less toxic, his dream, to improve our lives worldwide.
Keller was invited to hand pick our 'Boulder' from acres of land in Tennessee. Off she went! Stan 'detoured' to a magical place, a Saw Mill, owned and operated by his best friend Terry Frerichs. "The immediate smell of cut wood, saw dust and sap! I was refreshed and so excited, OUR boulder, and gratitude poured about of my entire being!" said Keller.
"Both Mountain Men escorted me to this open field, their faces of pride and joy, I knew my journey began and ended here!" After YEARS of avoiding and running over this small rock located in mid stream of a heavily traffic field, Terry decided to dig it up and remove it! Little did he know he had harvest OUR BOULDER! After a long exhausting three day journey, Stan hand delivered our boulder and placed it where it sits today and for many years to come! This small rock, now ready to hold space for our Healing Heart Grounds is now our beloved and endeared BOULDER which sits in the Northwest corner of the healing grounds, baring the name Healing Heart Grounds!
With gratitude and love we thank our blessed friend, Stan and his friend Terry, for their team effort, GIFTING us with our everlasting, 'ROCK'.
And so, with joy, love and perseverance, Healing Heart Grounds thrives.